Are you ready to check some places off your travel list? There are so many places to go, especially when the wanderlust kicks in. Unless you're rolling in the dough, travel can be prohibitively expensive. If you're still determined to see the world, here is how you can do it without blowing your whole paycheck.
Don't be afraid to travel in the off-season
Most tourist destinations have an off-season where flights and lodging are way cheaper than usual. Does the idea of traveling somewhere not at peak season scare you? It shouldn't!
You'll still get to see the same things as when it's the regular season, but without the huge price tag. As a bonus, there will be fewer people to deal with, and flights are nearly half the usual price. Think of the extra elbow room while you're booking your next flight.
Tuscany, Italy
Tuscany is a great place to visit year-round, but you won't miss out on anything by going in the off-season. While it may not be as sunny in the wintertime, the wine and local cuisine will still taste just as great. You won't get sunburnt or sweaty waiting in line to see all the cultural highlights.
Go on a long hike in the mountains, take a Vespa cruise through the countryside and soak in the hot springs. They will feel amazing this time of year. And, as always, top it off with a big glass of local wine after touring a local vineyard.
Fiji
There's never a bad time to be in Fiji. Don't let the low season deter you from planning a trip. You might see a little more rain when you go this time of year, but from November through late April, you are more likely to have the beach to yourself.
Book reasonable flights during the low season, and don't worry about not catching enough sun. With schools back in session, you can enjoy a quiet adults-only vacation. Your relaxing getaway couldn't get much better than that.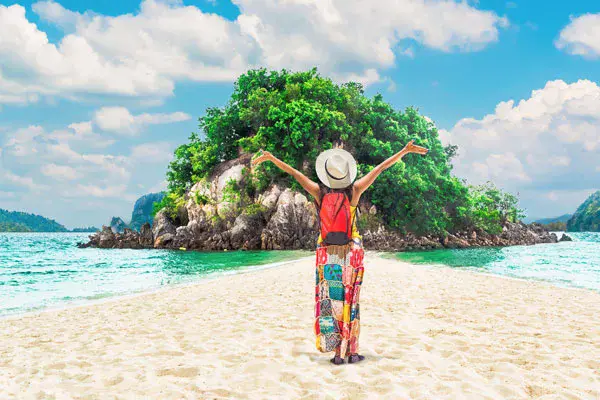 New Zealand
If you're looking for a once in a lifetime trip, off-season New Zealand is the place to go. Wintertime in New Zealand, which is June through August, March through May, and September through November, are the least busy months.
Enjoy skiing in the wintertime and beautiful spring and fall. The off-season means you don't have to pre-book all of your excursions and can make some impulsive decisions once you're there. Chat with the friendly locals and take their recommendations. New Zealand is an excellent choice for outdoor enthusiasts.
Costa Rica
Looking to stay a little closer to home? Costa Rica is the place for you. Travel during what they call the "green season" and enjoy quieter beaches and lush landscapes. Going prepared for afternoon rain showers lets you enjoy them more and be able to plan different activities.
Travel and lodging are dirt cheap in the off-season. Spend those savings on fun excursions you wouldn't usually be able to afford, or just go and take a relaxing vacation. You can't go wrong being in Costa Rica.
Looking to stay a little closer to home and travel somewhere without worrying about a passport? Look no further than these amazing places.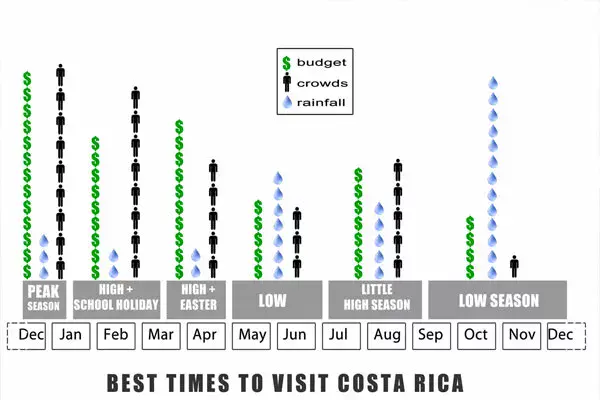 Bali, Indonesia
Bali is one of those can't-miss places. Unfortunately, everyone on Earth feels the same way, meaning insane crowds year-round. If this place is on your travel bucket list, go in September or October. Book a luxury hotel at a steal of a price.
Skip the long lines and reconnect with yourself in this gorgeous place. Try an underwater scooter, enjoy a sunset dinner cruise, or take in one of the many natural wonders of the world here.
Prague, Czech Republic
If you don't mind being a little chilly, you need to Czech out this place. Spring and fall are still beautiful times of year to go to Prague. Dress accordingly, and you'll still enjoy this place rife with history.
Fewer crowds mean less waiting in line in normally busy areas. Seeing the ancient architecture draped in the snow is a sight you shouldn't miss. Book your cheaper flights now!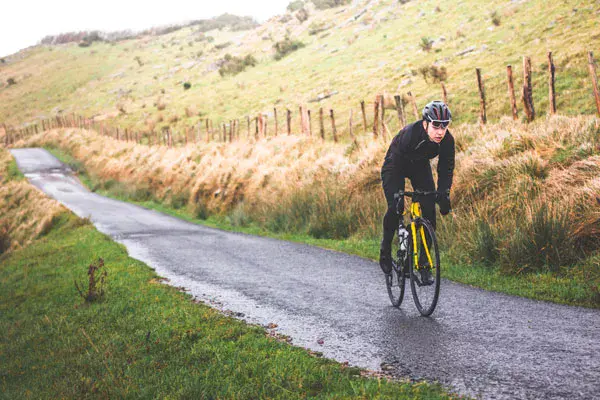 California
California is a great place to be, no matter the time of year. Here are two of our favorite spots!
The Arts District in Los Angeles is the best place to enjoy avant-garde restaurants, breweries, designers, art galleries, and more. This is a bustling scene where you're sure to spot some of the most elite people on this planet. Try going in the winter as it's too chilly for the locals to sit outside on all these amazing patios.
Not feeling Southern California? No problem. Head North to San Fransico. To beat the tourists, visit from September to November. The bay water is cold year-round, so don't expect to lounge on the beach too much here. Dress in layers and warm yourself up with some famous clam chowder.
Florida
If you want a typical beach vacation, you can't beat Florida. While hurricanes are intense, purchase traveler's insurance and check the weather before heading here in the fall. Expect rainy afternoons; otherwise, it's still warm and inviting here.
The low season brings unbeatable prices, and you'll still be able to soak up the sun. Listen to the locals if unexpected weather pops up and evacuate if necessary. Otherwise, happy travels!
New Orleans, Louisiana
December and January bring the coldest weather but also the lowest prices. NOLA is a relatively cheap place to travel as long as you avoid holidays like Mardi Gras and Carnival. Stay off Bourbon street, and you'll find more reasonable lodging.
We hope these travel destinations get you excited to plan your trips. Start looking at Google Flights early and book when flights are at the lowest prices. Being flexible on your travel dates and booking accommodations early is the best way to get the most out of your traveling.
And remember, if you can't afford it, don't charge a big bill on your credit card. Save up so that your trip doesn't cause you added stress when your credit card statement comes. If you haven't already, sign up for flight loyalty programs and enjoy those travel perks. Happy travels!